Adventure
---
Life is an adventure and what better way to celebrate the beginning of your married life with daring discoveries that can take you from islands to cities, from modern day activities to history-wreathed cobblestone streets and small villages to exhilarating heartracing experiences in a world of wonders.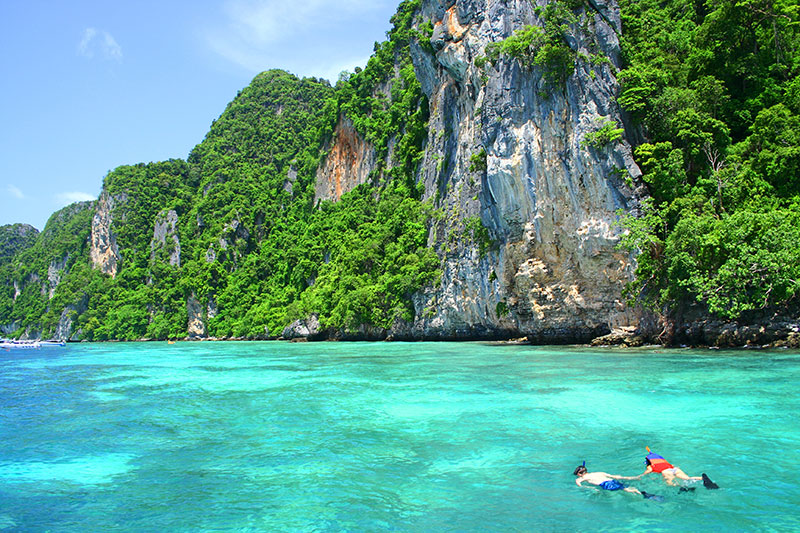 Explore lands near and far, lesser known and world-renowned; spend a day in the water and uncover the colours of the marine life and the wonders of wildlife, connect with nature or put on your hiking shoes to explore gorges, mountains and off the beaten paths. Make every day an adventure and travel to hidden coves, caves and beaches by kayak, interact with locals, cycle in the slow-paced countryside and around islands with a backdrop of a glistening blue sea, climb limestone cliffs, go birdwatching, let loose and get wild on a jeep safari, have an adventurous gastronomic experience and learn how to sail.
The secret to happiness is to love life and live it to the fullest. Go from sea to sky and explore the forests and glaciers in between; enjoy the journey, jaunt off to exotic places and make your honeymoon one to remember and your marriage the adventure of a lifetime. One got down on a knee, the other one said yes and both said "I do". Choose your dream adventure honeymoon from Naido's wide range of unique vendors, properties and professionals for an unforgettable honeymoon, vow renewal or proposal.
Nature
---
We live in a world endowed with a diverse environment of dramatic landscapes, forests, curving coastlines, rich blue seas, caves, deserts, jungles, waterfalls and striking snowcapped mountains. It is a world filled with beauty, a world offering unique honeymoon experiences just the way natured intended. You can enjoy the best of nature on your honeymoon and celebrate your married life outdoors with discoveries on land, in air and sea. If you are an ecotourism enthusiast discover the intricate network of trails and roads leading you off the beaten track into cultural and environmental-friendly adventures. Join ecoactivities and show your respect to the planet and go on responsible wildlife experiences, learn about local cultures, seek sustainable adventures and stay over at eco-resorts.
Another popular way to experience nature is on foot as it allows you to activate all your senses; it enables you to feel the fresh breeze, smell the rain, taste the products from the earth, listen to the birds, touch your surroundings and take in the heart-stopping beauty with your eyes. Just imagine going on a hiking trail with your loved one, hand-in-hand, and getting seduced by the splendour of unspoiled views, special moments in the sunset and a candlelit dinner on a beach; a truly magnificent way to celebrate your love and enjoy your honeymoon.
If you want to experience the best of the best on your honeymoon look no further than Naido for a variety of luxurious accommodation options, activities and vendors, suitable for every budget, and enjoy a romantic honeymoon in nature.
Leisure/Relaxing
---
What you deserve is a stress-free, relaxing honeymoon where you can fall asleep on a beach chair next to your other half, relax at the pool, get spoiled in a spa and just soak in  the serene fresh air. Whether you want to stay in the heart of the city or move away from the touristy spots and be surrounded by nature, there is a world of options out there to plan your break and you'll have your hands full deciding just how you want to do it.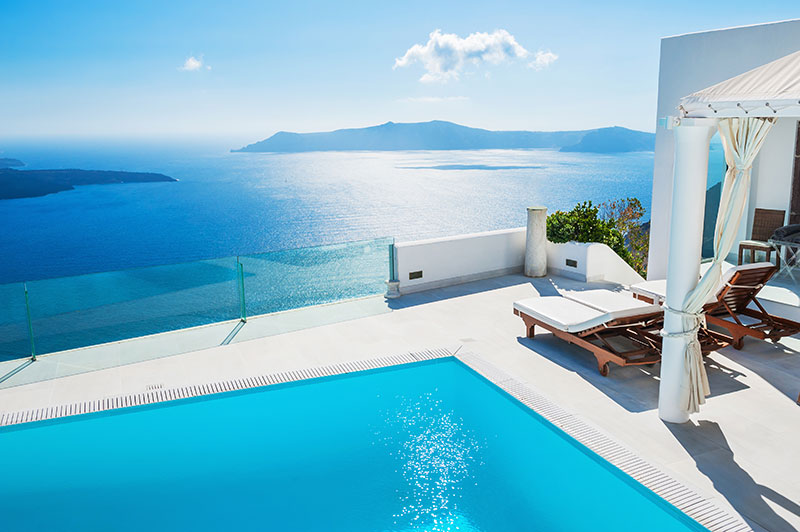 Stroll around the small and cozy shops or big malls, dine at restaurants with lovely views and tangible atmospheres, indulge in local delicacies or put on your dancing shoes and hit the clubs. Do not miss out on the chance to take your relaxing experience to the next level under the healing hands of massage therapists or soak in thermal baths, go for beauty treatments and meditation retreats.
If you want to add a more active flair to your leisure honeymoon enjoy relaxing walks, boat cruises or you can even discover the slow-paced countryside from the seat of a bicycle whilst enjoying the fresh cool breeze in your hair. A lot of resorts offer all-inclusive packages where you can just sit back, relax and enjoy.
Let experienced staff members and tour guides take care of the rest, because you deserve peace and tranquility. Make your proposal, honeymoon or vow renewal one of a kind with Naido's network of properties, ranging from charming boutique hotels, to exclusive resorts and luxurious private villas as well as professionals and wedding experts.
Gastronomy
---
They say the way to a man's heart is through his stomach, but did you know that through a country's culinary delights you get to experience its culture in a whole unique way? If you've ever been labelled as a foodie then a flavoured-packed honeymoon filled with food experiences is your cup of tea.
You can have a fine dining experience in restaurants with sea views and Michelin stars, or go the more traditional route and visit an informal café, share a meal with a local or have a beachfront candlelit experience; whatever you decide to do, make sure you take your palate on a gourmet tour! Head to the wineries and vineyards to get a taste of the local wine, indulge in the destination's coffee beans and beer, learn more about the history, techniques and traditions of food.
Have hands-on experience and pick strawberries to have a high tea or pick olives for a picnic. Be daring and try something new, be adventurous and order strange food. Get creative and join a food tour, attend a cooking class and visit the bustling local food markets.
Discover the culinary secrets and have a tasty, finger-licking-good, honeymoon with a romantic atmosphere through a gastronomic experience.
If you want to plan the ultimate honeymoon, a special proposal or renew your vows, turn to the outstanding selection of properties and professionals from Naido's network and choose a high-end resort, a stylish hotel or a fully serviced villa, a talented photographer or concierge services. All you need to know is right at your fingertips!
On Sea
---
Experience the beauty of the ocean from a luxurious yacht. It is a honeymoon made in heaven where you can get front row seats to sunrises and sunsets while in the arms of the love of your life.
You can enjoy secluded anchorages of small town, bays and caves, laze in a hammock and go for a romantic picnic on a private beach with the sound of tranquil waves in the background. Is there anything more idyllic than a sailing honeymoon? Sailing honeymoons can be tailored to what you have imagined with privacy and attentive crews for that unique unforgettable experience. Getting off the yacht is just as much fun as getting on the yacht. While sailing you can visit some of the best known islands, enjoy the marine life while diving and snorkeling or swim at world-renowned beaches.
Sailing tours also offer honeymooners the chance to experience the nightlife, unique restaurants and cafes on land or if you don't feel like a crowd just enjoy a romantic sundowner as you sail into the sunset. Sailing honeymoons and boat cruises come accompanied with a variety of activities suitable for every couple; you can explore the city, do activities, visit fishermen's villages or just opt for best view and enjoy a sightseeing cruise from your luxurious yacht.
Forget about the hotel and climb aboard for a honeymoon made in heaven and experienced on sea. Experience the most romantic honeymoon with your loved one and make your stay memorable through the great selection of Naido's sailing trips, local vendors and professionals.
City/Shopping
---
You just got married and it is your honeymoon, what better excuse do you need to have a once in a lifetime shopping experience at high-class boutiques, local markets and shopping malls. Dream do come true.
There is a shop for every taste, a store for every budget and whether you want to wander around cobblestone streets and fill your shopping bags in the small town gems or explore the heart of the city and splurge on a boutique hotel, the world is your oyster and the world is a paradise for shoppers! Shop till you drop and go on a walking tour and experience the best of your destination from handicrafts to cosmetics, to souvenirs, wine, clothes, shoes and jewellery. Experience the culture of a city through local vendors, browse through galleries filled with highend art pieces, witness how they make the items, be a true fashionista amidst all the wellknown name brands and enjoy the shopping scene as a married couple. When you need a break visit some of the unique restaurants just as chic as the boutiques, stroll through ancient museums, archaeological sites and statues, go on a sightseeing tour, slip away for a quick relaxing spa treatment and head back to the shops for more value-for-money items. A honeymoon filled with shopping can be a satisfying experience for all, an experience not to be missed.
Get the best out of your honeymoon experience with Naido's top network of professionals and vendors that will make this time of your life unique and unforgettable!
Luxury
---
There is no end to the degree of luxury you can experience on your honeymoon and without much effort, you can enjoy authenticity and intimacy as you explore the unspoiled treasures of cities, islands or world-class resorts stylishly tucked away somewhere in a mountain.
To make your honeymoon experience unforgettable, stay at a top romantic boutique hotel or go for the lavish leisures at a resort with high-class amenities where you can enjoy a private chef, butler and tour guide. Sip cocktails and indulge in local and international cuisine on private beaches. Pamper yourself with spa treatments, revitalise body, mind and spirit, bask in the sun next to your private pool, sail on a luxurious yacht and go from the bustling cosmopolitan cities to small island getaways. For more five-star experiences spoil yourself and your loved one with a designer label item; shop for clothing, jewellery and authentic art.
Discover cultural hotspots and treat your taste buds with a fine dining experience at a Michelin award-winning restaurant. If it's luxury that you are after, nothing can stop you from having the paradise on earth experience. Live on the royal side of life; enjoy the dreamy views, personal touches, excellent services and experiences and marvel in the incomparable panache of your romantic getaway.
Booking accommodation for your honeymoon and other special occasions has never been easier with the variety of options from Nadio's unique collection of luxurious properties like villas, resorts and hotels. Find also local vendors and wedding experts and get everything you need to know fast and easier than ever!
Action
---
If you and your loved one need more than candlelit dinners and awe-inspiring sunsets, then an action-packed adrenaline adventure is what you need during your Honeymoon. There are plenty of extreme sports that will have your heart racing in no time and you can go from chill to thrill in a matter of seconds. Whether you want your adventure to take place on land, in air or under water, there are exciting experiences everywhere. If you want your feet to stay firmly planted on earth, enjoy off-road adventures on a mountain bike or 4×4, go trekking and camping, explore the canyons, climb mountains, trot along ancient paths and enjoy exhilarating rally racing events.
You can also get high with a bird's eye view of the landscapes as push yourself beyond your limits with adrenaline-charged activities such as skydiving, bungee jumping from a bridge, paragliding and flying over the clouds with a small motorized plane or glider.
Live out your mermaid fantasies and go diving or snorkeling with the oceans' abundant marine life on reefs and wrecks. You will be in the sea for days while you have to choose from an array of activities such as kite boarding, water skiing, rafting, canyoning, sailing and windsurfing. If you and your partner enjoy life on the edge, explore the magic of extreme sports during your honeymoon.
Naido's great network boasts fun-filled resorts, travel industry professionals, adrenaline and activities experts that will give to your romantic honeymoon the action you search for!